Drop-in

A location-based messaging app for building exercise habits.

Drop-in is a school project sponsored by Premera, a local health insurance company whose primary business areas are Washington and Alaska. Our team was asked to provide a digital solution for Premera's current or prospective customers in aftercare field. The project took about 4 months from start to end.


Team project.

My contribution includes secondary research, ideation, concept drawing, UI design, usability test, diagram illustration, and documentation.


My roles:
- Interaction Designer
- Researcher

Final Concept Demo

1. Mike wants to encourage his friends Sophia to get some exercise from her busy schedule. He starts by recording a video message and drops his message on a specific location.
2. Sophia receives a notification from Drop-in that her friend Mike just sent her a message. However, before she can watch the message, she needs to take a walk.
3. The message was dropped 14 minutes from her. She decides to take a walk right away. Following the map, she walks towards the message.
4. Getting closer and closer, finally, Sophia found that message! She taps on the "view" button to watch the message now.
5. The message plays. In the video, Mike reminds her to take a walk every day to build exercise habit, getting outside to enjoy natural views.
---
Project Overview
Drop-In was designed to serve the caregiving needs of newly diagnosed type 2 diabetes patients. Throughout the research, we expected the product should be fun and useful for both patients and caregivers, no matter where they are located.
Research Findings
We started with secondary research about caregiving in general, issues around aftercare, how behavior change can be impacted by technology, and the most common medical conditions in the area served by Premera. We also supplemented our research with additional primary research.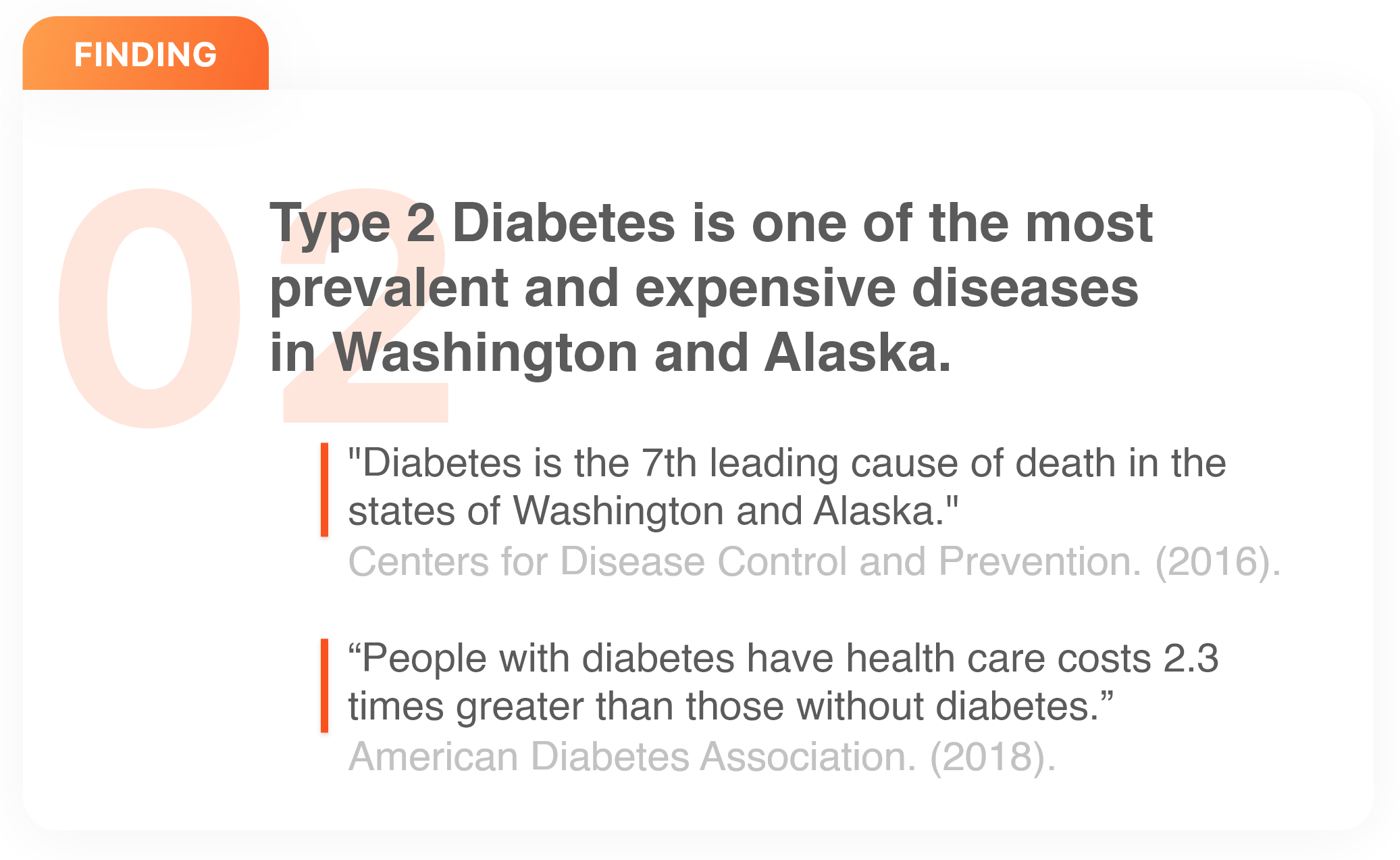 ---
Ideation and Down-selection

Process
We used a mind map to explore the connections between each subtopic and uncover areas in the problem space we hadn't previously considered.
We came up with around 100 ideas and sorted them into 7 different themes. The f
ollowing critique session with Premera
helped sharpen our focus in order to pull out the strongest 20 concepts from our group of 100.
Downselection Criteria
Combining the feedback from Premera and our own perspective from our research, we chose 6 criteria for evaluating our concepts:
Innovative

Contextual

Beneficial to Caregivers

Beneficial to Patients

Increased Knowledge

Coordinative
After multiple rounds of downselection sessions, we felt the
geocached messaging concept
can serve our users and Premera's business goals best.
The geocached messaging concept will allow caregivers located
locally or remotely
to send video messages that can only be accessed in a specific location. The patient will have to be
physically active in order to access the motivational messages from their loved ones.
They will then have the ability to send a geocached message back to the caregivers.
---
Competitive Analysis

I researched on a variety of fitness apps and diabetes management apps, and analyzed them using these 3 metrics:
being motivated
,
exercise oriented
and
diabetes targeted
.
Discovery design opportunities
Desired Outcomes and Key Features
---
Key User Flows
*View the detailed flows map
here

Key Path #1
Send a Message
The caregiver would be able to send video messages that can only be accessed in a specific location.


Key Path #2
Retrieve a Message


The patient will have to be physically active in order to access the motivational messages from their loved ones. They will then have the ability to send a geocached message back to the caregivers.
---
Lo-Fi Prototype Test
To further develop the concept, we created prototypes of key user flows using paper prototypes and tested them with users.
Main Finding #1
Message senders expected more guidance of where to drop the message; when retrieving the message, people wished to have more control of their walking routes.
Solution
Added My Favorite Places feature, which users can define their start locations.

Main Finding #2
Users brought up accessibility concerns. Patients may have different levels of mobility issues.

Solution
Provided accessibility filters on the map including Steep Grades, Obstruction, and

Stairs

to better serve wheelchair users.
Main Finding #3
Users have different opinions about the order of dropping the message and choosing the recipient.

Solution
Conducted another round of

competitive analysis

on popular video messaging apps such as Snapchat and Instagram. Followed the most conventional order, but leave

freedom

for users to jump back and forth.
---
UI Mockups
Send a Message
Retrieve a Message
Inbox
Maintain Healthy Habits
Onboarding
---
Visual System
Interface Style
In order to create a clean look and allow users to focus on the key tasks, I used the flat visual style to reduce unnecessary distraction.
Color Palette

I chose orange as one of the primary colors because of its association with
joy, enthusiasm and encouragement.
Black and white created strong contrasts to other colors which provided effective visual cues.
*View the detailed UI specification document here
---
Reflection


Should think more about collaborating elements in the goal settig part where patients and caregivers share the ownership of the goal. They can accomplish the daily walk togehter.
Enable the system to learn partients's habites and routes. Should avoid making sending messages become burdon on caregivers. They system should be able to send messages intermittently.
Any successful intervention to reduce type 2 diabetes rates would have positive impact on reducing healthcare costs
Elepho

In most U.S. families, both parents work outside of the home. Daycare is usually their first option.

Elepho is a new system that improves the communication efficiency between childcare providers and parents. Keeps parents well-informed, while simultaneously make daycare teachers' work more manageable.



Individual Project

Skills that I used: research plannin, primary research secondary research, user intervie, co-design, system design, product design, UI design, sketching, 3D modeling & rendering, 3D printin, lo-fi & hi-fi prototyping and video production

My roles:
- interaction designer
- Researcher
- Product designer

Final Solution
---
Problem Scope
1. Summary

Work-life balance problem is one of the common concerns of working parents. For a newborn baby, he/she grows so fast so the parents can expect something different on him/her every day! As parents, on one hand, those little changes make them feel happy and excited. On the other hand, they need to learn how to cope with these changes properly.
2. Statistics
According to factfinder.census.gov,
97%
of families have a
t least one working parent.
- Data was retrieved from https://factfinder.census.gov, 2016.
Male and female's roles in terms of childcare tasks have started to converge. More and more fathers made the statement that parenting is extremely important to their father's identity. Work-life balance problem became a challenge for both genders. Parents experience an emotional roller coaster due to the stress of balancing home and work, and hardly get outside helps.
2/3 of mothers feel helpless about childcare problems.
More than 50% of parents fear they'll miss everyday moments
1/3 parents argue or fight with their families at least once a week about childcare problems
- Summarized from blog posts, forum discussions and informal survey results on the internet
---
Primary Research
1. Interview
I interviewed with 5 working parents (4 females and 1 male) and 3 daycare teachers through in-person semi-structured interview sessions.
Findings:
For parents, they enjoy being working adults and parents at the same time.
Those two identities give them fulfillingness in different ways
. On the emotional level, parents miss their children when the kids at daycare. They need something to build a connection between them.
For teachers, they mostly struggled with the unorganized tasks that need to accomplish on daily basis. Taking care of younger children
requires consistent attention
. The current system is hard to keep records and communicate with parents.
---
2. Survey

In order to get a comprehensive understanding of demographic and context of the problem, I send out a survey via a Facebook group, daycare email lists, and online forums. I got 46 responses in total. After I analyzed the result, users' needs became much clearer.

Insight #1


Most people

have trouble to accommodate their busy schedules

and feel the lack of time with children and families.
58.7% of the responders work 20-40h per week, 39.13% work more that 40h.




"feeling guilt about being at work and focusing on things that don't seem as important when something else is going on with your kid. Stress around all of the things that need to be done."

Insight #2

38 out of the 46 participants have experienced with daycare or pre-school facilities. Although people's experiences with childcare facilities are positive,

parents' expectations and complaints are very different

and

vary along with the children's growth.



How old is(was) your first kid when you go(went) back to work?



"Toddler program. My child got sick a lot. But he also got a lot out of it. I wish teacher's were more sanitary there."

"I wish I could have picked up a hot meal already prepared to take home at the same time I picked up my kids:-)."

"For the most part it's great, my only complaint is sometimes his regular sitters have the day off and he's with people we don't know, and we aren't notified or given a chance to meet them. And it's hard to know what to expect since you don't see what's going on each day.

"Based on what my child is going through, what I most want to know changes. ... for example, if they didn't nap, they will need to go to bed early. for babies - when did they have their last bottle, so I know when to feed next? if they didn't eat much they will need to have dinner early. etc."



Insight #3
When they feel stressed, most they tend to seek emotional support from their families, close friends and working mom/dad communities, while a few of the responders prefer professional resources such as psychiatrists.




" All of what you mentioned. There are a million different ways to do things or that you have to consider. Every child is different, so getting tips or knowledge from multiple sources is really helpful because it allows you to try several options or tailor something so that it is best for you or your child. "


*View the detailed survey report here

---
3. Make-Tool Session
Participant #1
Mary & Ethan
Full-time working mother
Using full-time daycare
Mary works full-time and rarely has flexible schedules, so her husband James is the lead parent in terms of childcare. He does more daycare dropping off and picking up.

Participant #2
Ivy & Luna
Full-time working mother
Using part-time daycare and living nanny
Ivy went back to work when Luna was five months. Her husband Jason has a tight schedule as well, so they decided to hire a living nanny to take care of their baby. On the other hand, they hope Luna to have a systematic learning experience as well as gain social skills when getting along with other children, so they send Luna to daycare 3 days a week.
Participant #3
Gretchen, Perry & Ryder
Part-time working mother
Using part-time daycare, pre-school & babysitters
Gretchen is a part-time working mother. Her husband Danny is a graduate student who has plenty of school work need to do. She is the one who does more childcare job since she has more flexible time. In general, she feels scheduling is the biggest concern for her.
---
Problem Statement
1. Current Issues

Information is not immediately updated on the parents' side.
Parents are experiencing separation anxiety
Teachers spend too much time filling out the report rather than paying attention to children.
Paper reports are hard to keep on file and are easily misplaced.


Children's performance chart, Daily report
2. Problem Statement
In most U.S. families, both parents work outside of the home. Daycare is usually their first option. Paper reports and emails as the main communication method with parents.

3. Desired Outcome
Design a new system that improves the communication efficiency between childcare providers and parents.
Keeps parents well-informed, while simultaneously reducing daycare teachers' workloads.
Persona

1. Parents
2. Teachers
---
Competitive Analysis
1. Childcare Software Products

2. Child Monitor & Communication Tools
---
Information & Communication
Parents have strong emotional connections with their kids. The special bond between parents and children makes them miss their children very hard.

Researching all different software and products on the market, lots of them can provide info and feedback in details to parents but few could think about how the information would be sent and received. I can see the blank space there where a product/system can provide a streamlined communication channel between parents and daycare teachers.

In this case, I took different types of communication media and information priority into consideration.



When the parents cannot take care of their children in person, they expect to receive proper feedbacks from other care-providers to make sure their kids are safe and happy. Different communication channels can carry different amount and types of information.




Complexity of info

Media richness

Degree of distraction

Degree of urgency

Recordability

Efficiency of response
---
Design Opportunities & Ideation
Looking for design opportunities around parents' bags, kids' daily supplies, and daycare equipment to build the connection between parents and children through technologies which can provide proper feedback when they are not taking care of their children in person
.
Design Principles:

High-Tech
Embed cutting-edge technologies to create streamlined information flows.

Comforting
Release the stress caused by separation for both children and parents.

Interactive
Build effective conversation among parents, childcare providers, and children.

Involved
Simplify communication methods. Involve parents together to do a better childcare job.

Reliable
Keep personal information safe and limit the conversations in a closed loop between daycare facilities and parents.

I brainstormed different concepts based on the three steps:
Info Sending (childcare providers)

Info Communicating (APP)

Info Receiving (parents)
System Diagram
---
Visual System
I hoped to create
safe, energetic and lively
feelings. Most of my inspiration pictures have pastel tones of mild color themes.
Logo Design
---
Concept & Prototype

1. Hand Device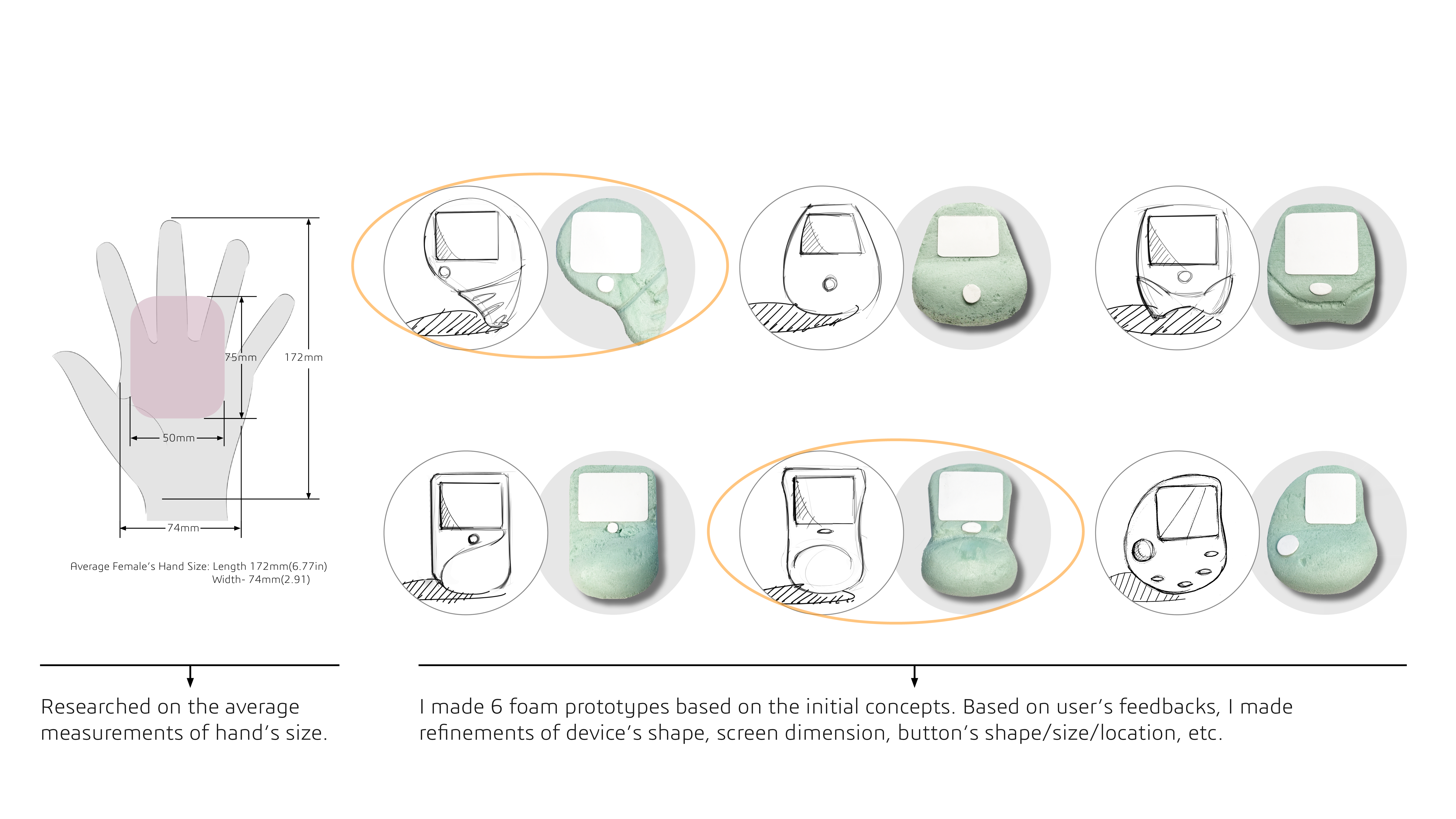 2. Childcare Robot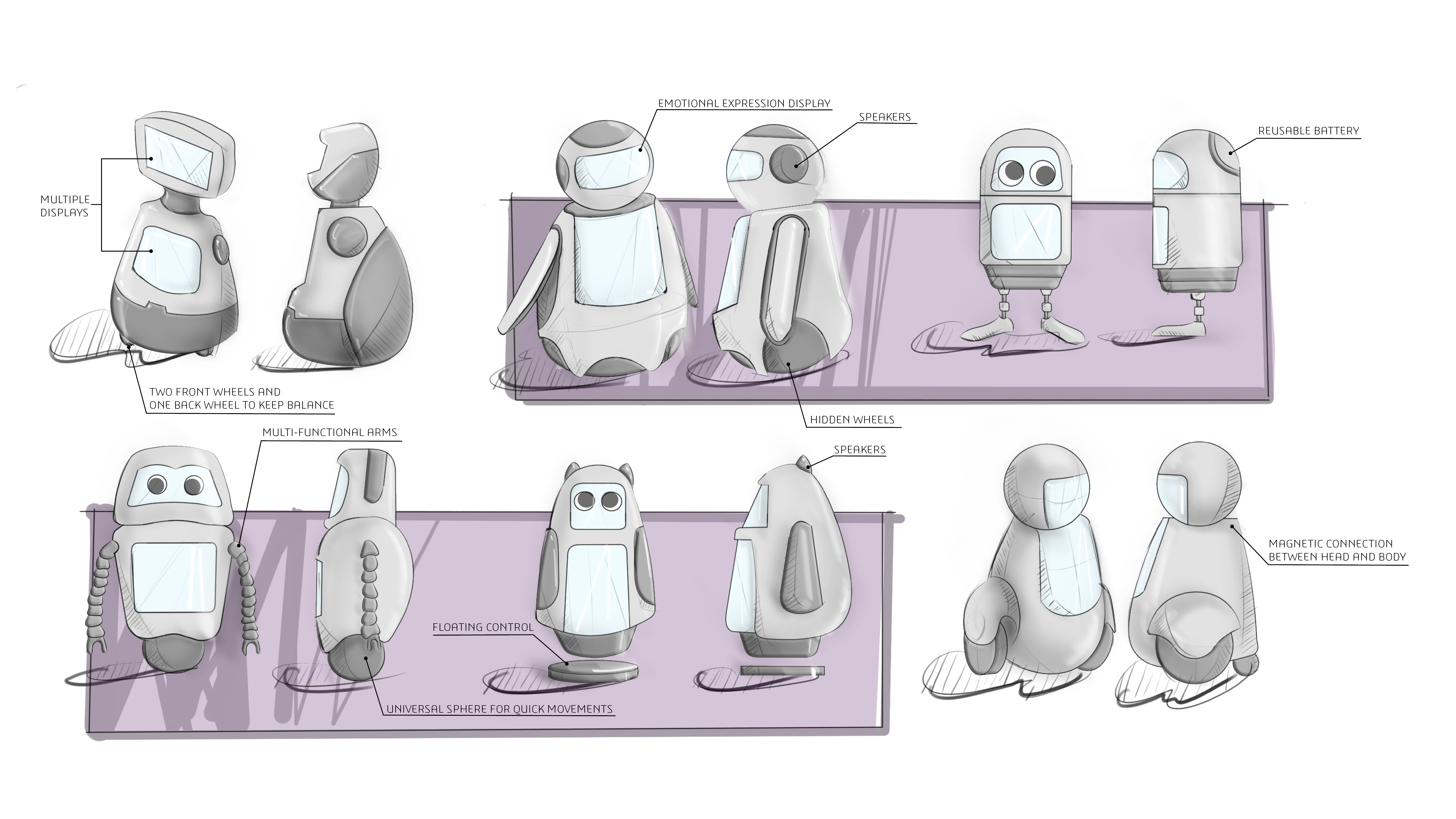 3. Wireframe

---
System Overview

1. APP Screens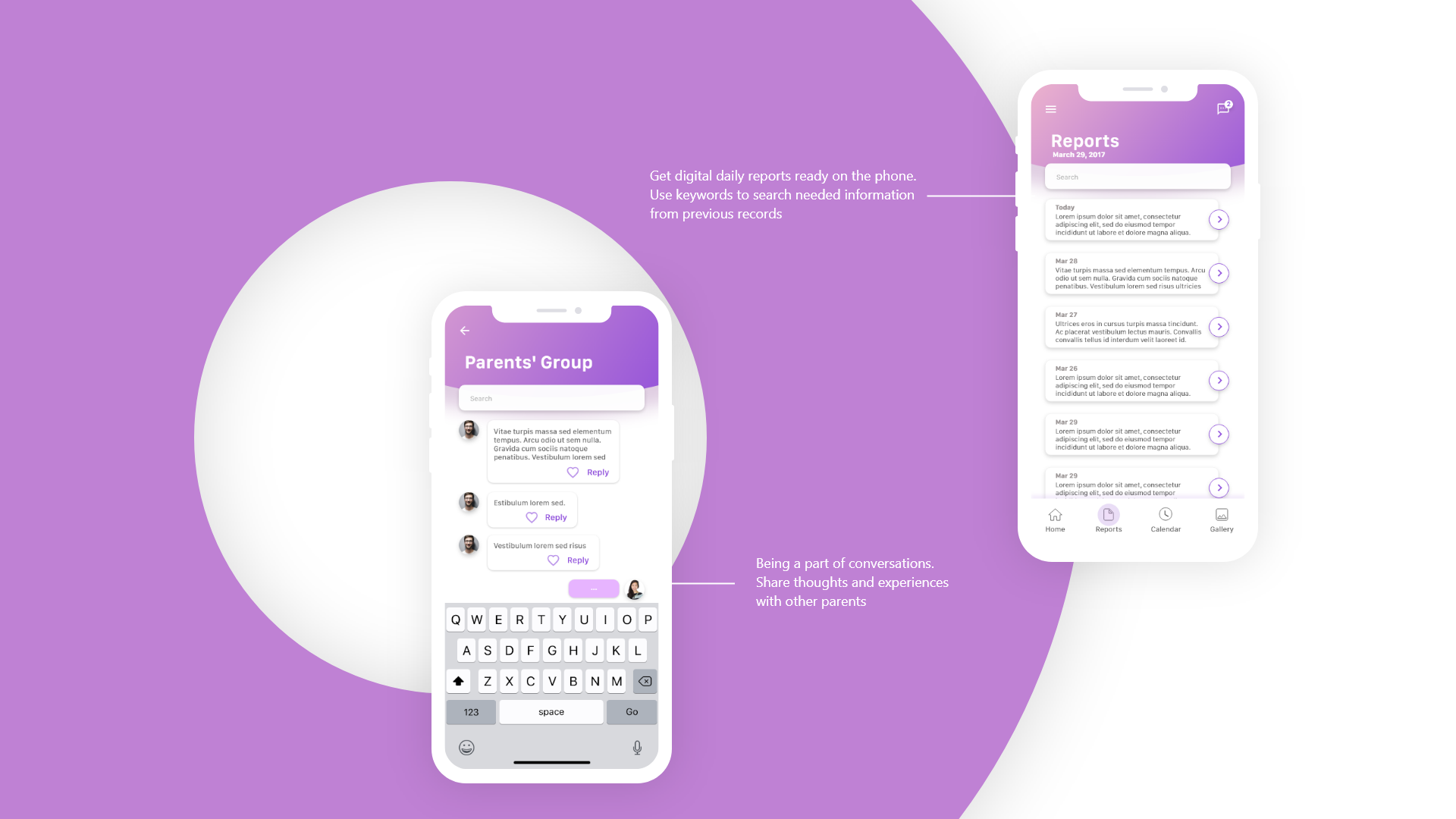 2. The Hand Device
This device was specifically designed for daycare teachers. It is small, lightweight and easily be carried with.

The built-in front and back cameras that incorporate with Facial Recognition and Object Recognition technologies can help to smartly capture information about each activity of each child by pairing with different Hotspots located in daycare centers.

Primary functions include photo capturing and task confirming. No extra writing is needed from the teachers' side and the accuracy of tasks' record is guaranteed.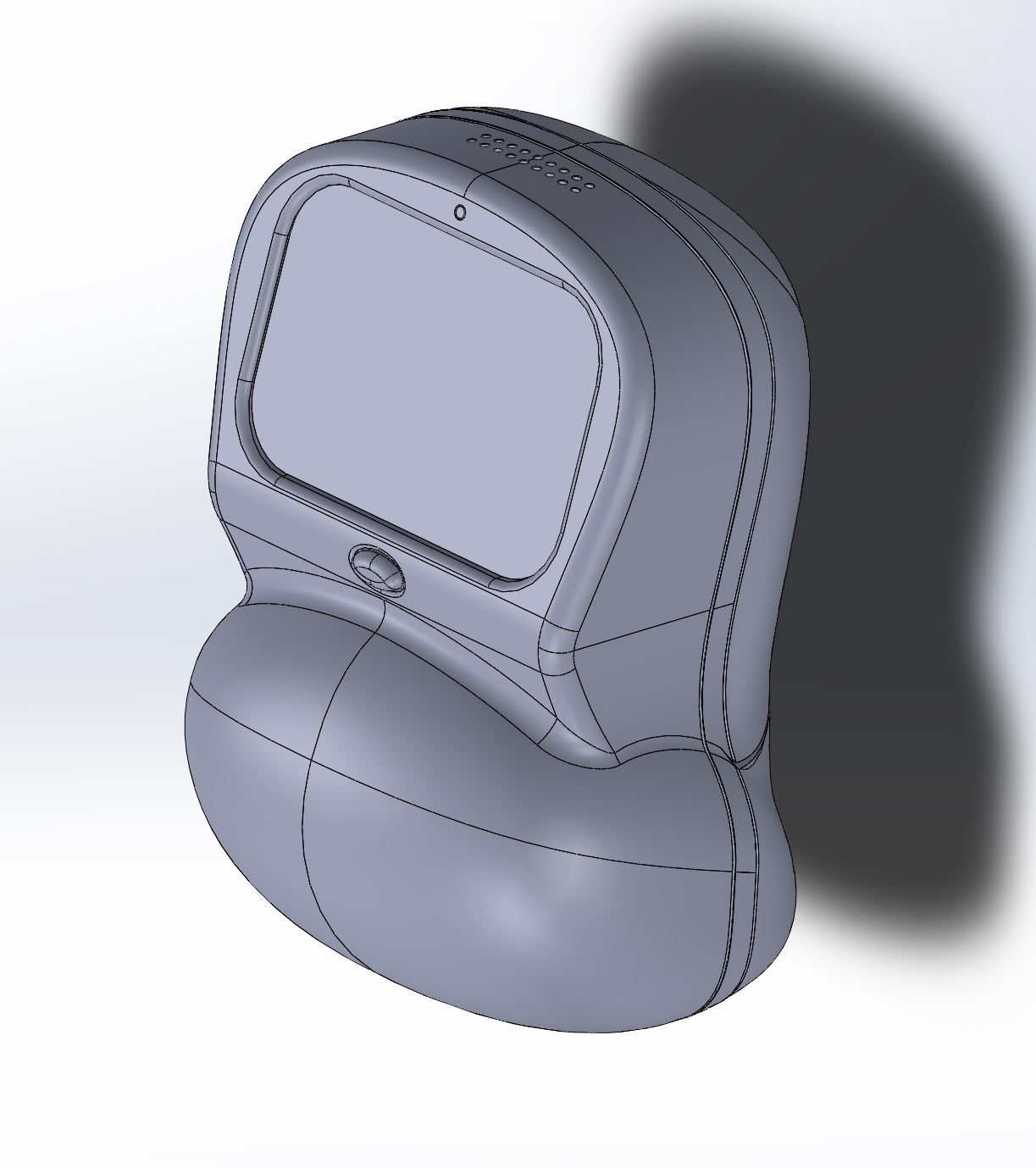 3. The Robot
The eleBOT is an Artificial Intelligence Robot who is able to communicate efficiently with children and teachers by analyzing the words and tones in conversations and people's facial expression and then give natural reactions.
He is also responsible for collecting and selecting useful data and send them to the central hub. That information will be used for generating children's daily reports that the parents can save as references.
Daily Tasks Include:
Captures photos and videos during activities

Displays customized educational materials and teaches lower-level classes

Video calls if parents were requesting

Immediately syncs data with the central hub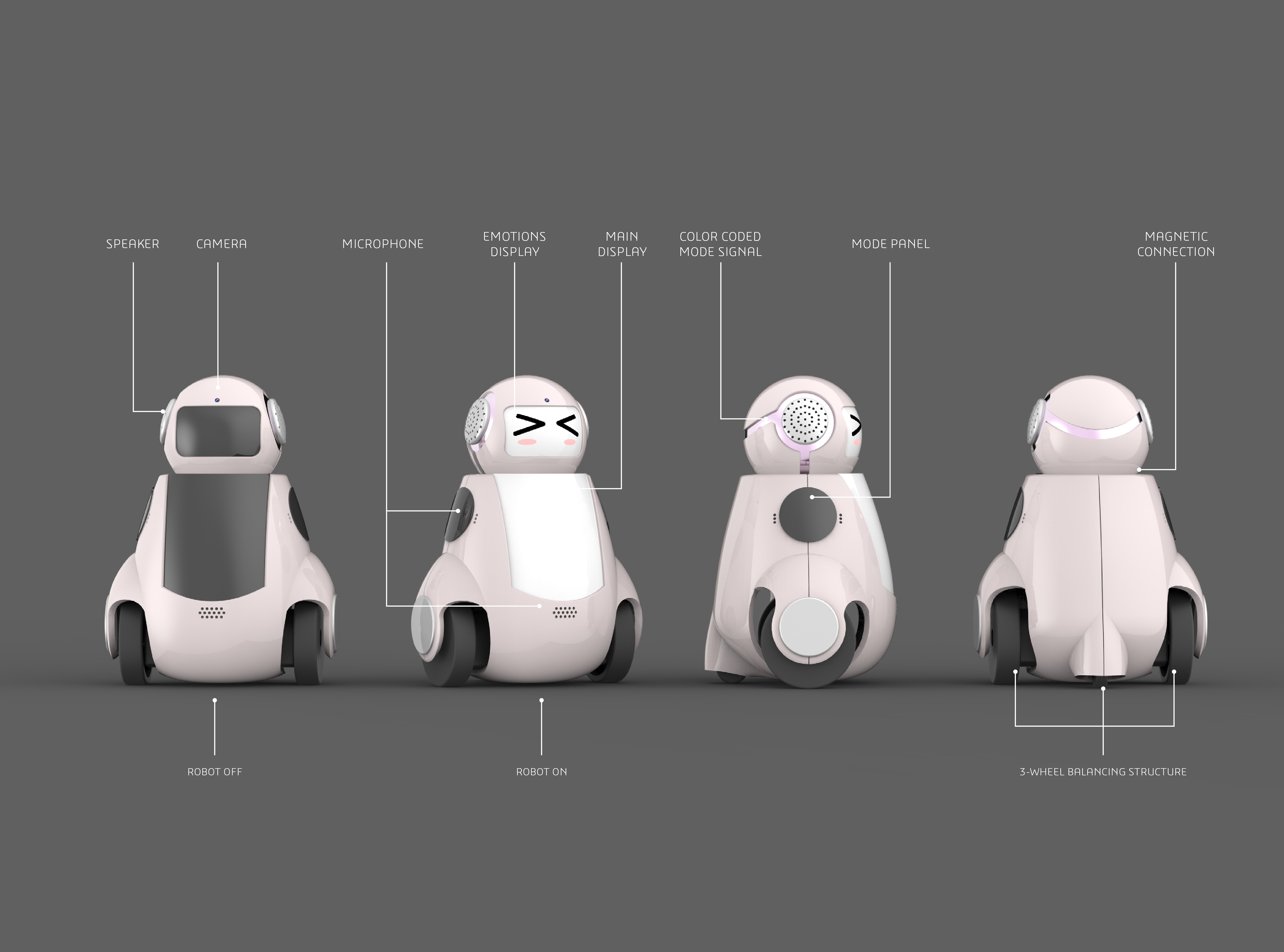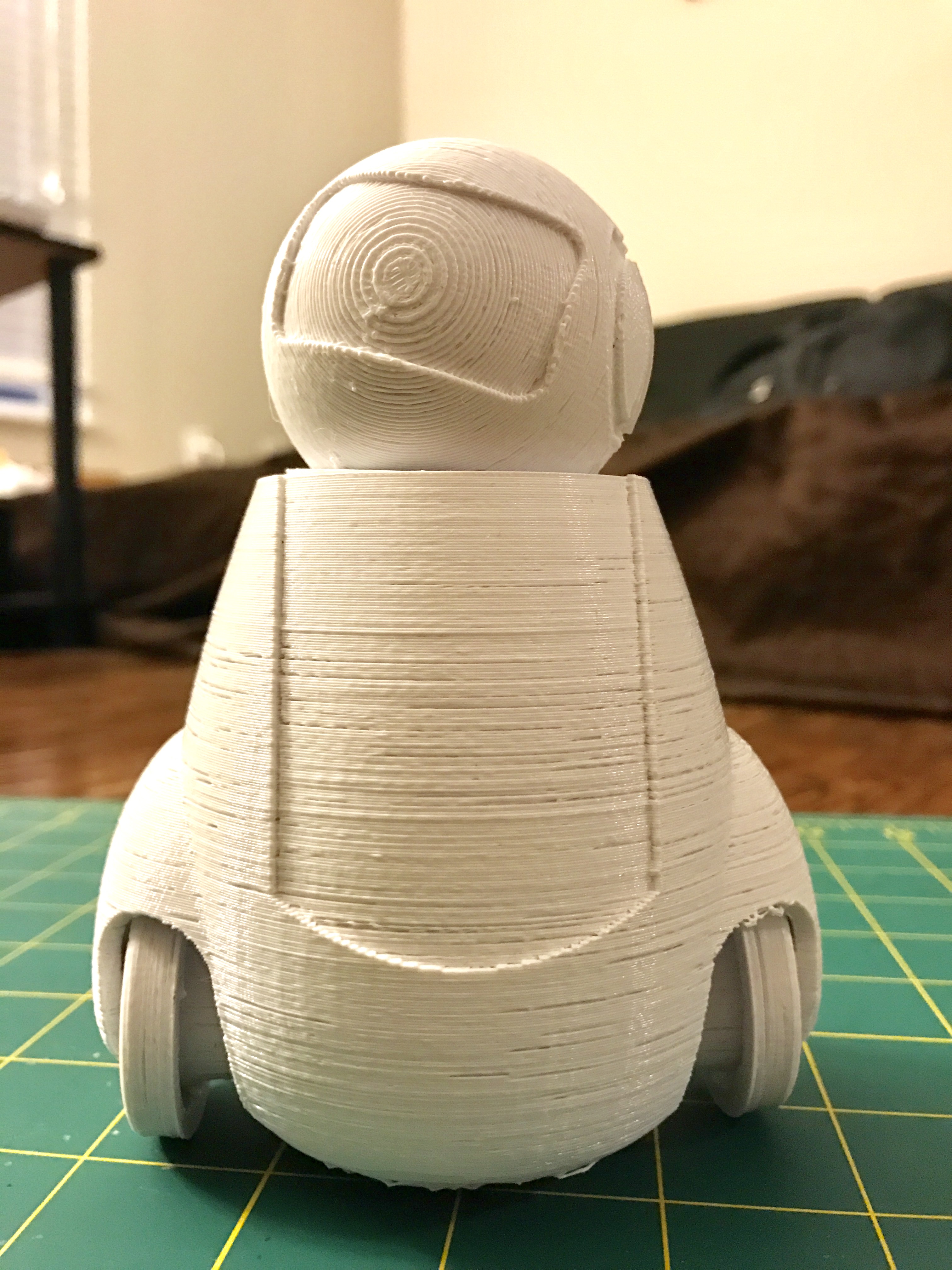 UX Specialist Internship
From May to August 2017, I worked as a UX specialist intern in the digital team
at Owens Corning's headquarter, Toledo, OH
I was highly involved in multiple projects across different business units in a collaborative setting.
Skills:
- UI design
- lo-fi & hi-fi prototyping
- usability test
- research planning
- user interview
- heuristic evaluation
- card sorting - interpersonal skills
- collaboration
- presentation skill

Collaborated with:
- Stakeholders
- Project Manager
- Senior UX Researcher
- Web Analytics Lead
- UX Architect
- Visual Designer
- Software Engineers
- Marketing Specialists - Internal Users


When UX meets business, its primary goal is to improve customers' satisfaction and loyalty through positive experiences.
Roofing Contractor Experience
For this project, we were trying to transfer the current portal onto a new platform where can provide a better user experience for the customers.
---

Methods Used:

Card Sorting

In the old-school way, we would post every single category on the wall and prepare some physical cards for people to put underneath the category they think is the most fitful. For this project, we followed the same principle but did it digitally.
By conducting the designs based on the data we gathered from the card sorting activity, we were confident to say that the newly designed navigation can perform its function alleging with users' mindsets.
Usability Test
We conducted the usability tests by video conference. The overall purpose of the conversation would be letting the users speak out they concerns while they were interacting with the website/prototype.
I had the chances to both lead the conversation and co-facilitate the sessions.
After analyzing the results from the test sessions, I generated research reports and attended the discussions with stakeholders, and also involved in the interface design revisions.
Building Enclosure
Building Enclosure website is a launched website, rather than researching and testing on the overall user experience, our goal was to validate several specific functionalities.
---

Methods Used:
Screen Recording

By monitoring users' behaviors throughout the tasks, we could evaluate the performances regarding those functionalities.
Heat Map
The heat map told us about which area has the most click counts and the route maps of the moving or scrolling of the users' cursors.
By analyzing the data, we were able to define the good spots and the bad spots and generated recommendations for the next step.
Usability Test

In the meanwhile, started to screen qualified users for the next round usability test.
Customer Relationship Management
The CRM system is a great tool can help the sales team manage customer relationship effectively. It can asset commercial leaders to predict marketing trends.
---

Methods Used:

Heuristic Evaluation
After went through each page and took users' complains into consideration, I detailed evaluated each page using design guidelines and Don Norman's 10 design principles.
---
Please contact me to know more about this project.
---
MURA
a new design of meeting scheduling experience
Individual project

Keywords:
- User Research
- UI design
- Animation
Problem Statement
How might we help the individuals in different time zones to manage and communicate their schedules with their co-workers?
Desired Outcomes
Provide a holistic view of meeting schedules for the meeting hosts

Optimize the meeting scheduling process, includes booking meeting rooms, inviting attendees, sharing the schedule with others, and etc.

Reduce miscommunication caused by different time zones and locations
Persona

Key Screens and Animations

Login
There are two ways to get started with MURA.
Enter an invitation code from your organization.

Register with your email or other social media accounts
Dashboard

The dashboard contains overall information of today's meeting schedule. A quick view of all attendees' locations and time zones.
Swipe left or right to review previous meetings and incoming ones.

Different locations and time zones information are available on the dashboard.
Add more parties or remove current ones by a single touch.
Customized Topics

You can choose a meeting topic such as touch-base, interview and team discussion to make your schedule more organized. There is also an option to set new customized meeting types, and save them for later usage.
Choose a default meeting type or add a new one.

Dial the wheel to select.
Date and Time
Bring visual cues along with the scheduling process. The users could see people's headshots when scheduling meetings.

Use the forward feature to inform relevant parties.


Interaction
Guidlines