MURA
Designing a streamlined process to schedule meetings across different time zones
Individual project

Keywords:
- User Research
- UI design
- Animations
---
Problem Statement
How might we help the individuals in different time zones to manage and communicate their schedules with their co-workers?
---
Methods

I inherited the research findings from the client. I started with a research process to understand the pain points of the users who need to coordinate and schedule meetings in global organizations. During the interview sessions, I took close observations of users' process of scheduling meetings with people in different time zones and learned about their tools, preferences, and goals.

Then, I summarised their common pain points and generated two archetypes and a user journey map. Thus, in the next step, I could propose design ideas that target directly on the problems that I found in the research phase.

Finding 1
When a business has multiple offices or works with remote workers, their hours are flexible, work locations are far and wide, and meetings need to be virtual. Collaborating across several time zones is hard
" International meetings can be particularly difficult to schedule, especially since different countries perform their seasonal clock adjustments ."

Finding 2
Coordinating a long distance meeting with multiple time zones requires taking the physical setting of each person attending in to consideration
"It is possible to find an open time slot on everyone's calendar, but it is hard to estimate where the scattered attendees will be and what time of day inconveniences the least number of people."
Archetypes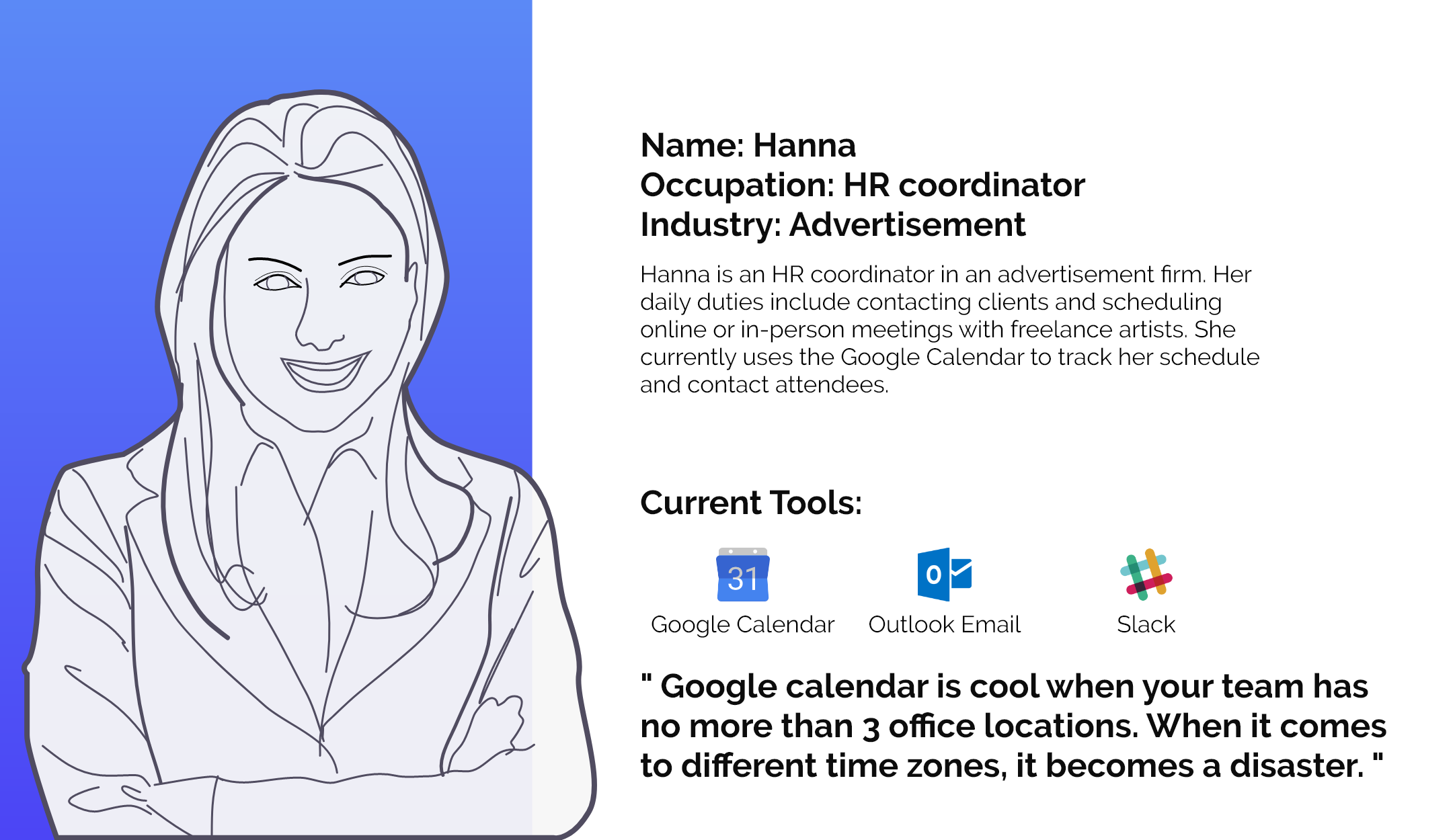 Desired Outcomes and Key Features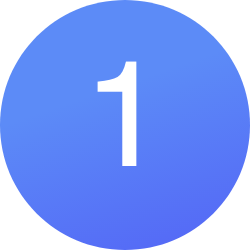 Provide a holistic view of meeting schedules for the meeting hosts to reduce miscommunications that are caused by different time zones and locations
Provide real-time notifications for attendees when receiving meeting invitations, and able them to keep track of accepted meetings and have meeting details on fingertips
Optimize and simplify meeting scheduling process to provide a hassle-free experience
Relevant Features
Local time converter

Relevant information about past, current, and incoming events
Quick accesses to adding new locations and creating new events
Relevant Features
Notifications when receiving meeting invitations
Immediately respond options
Inbox feature that helps to manage received invitations
Relevant Features
Clear steps and interfaces of booking a meeting
Alternative ways to edit invitations' details in the later steps
Preview dialogues before sending out invitations to attendees
Key Screens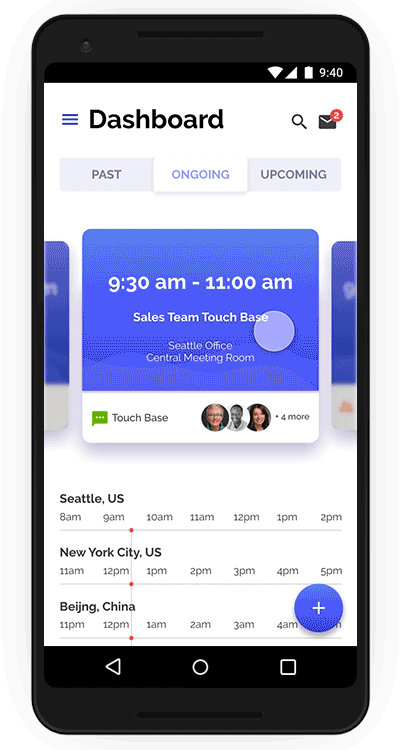 1. View Dashboard

MURA meeting app provides a quick view of scheduled meetings' information that includes dates, durations and all attendees' locations and time zones. Switch between the card view and the list view to see more or less information of each meeting.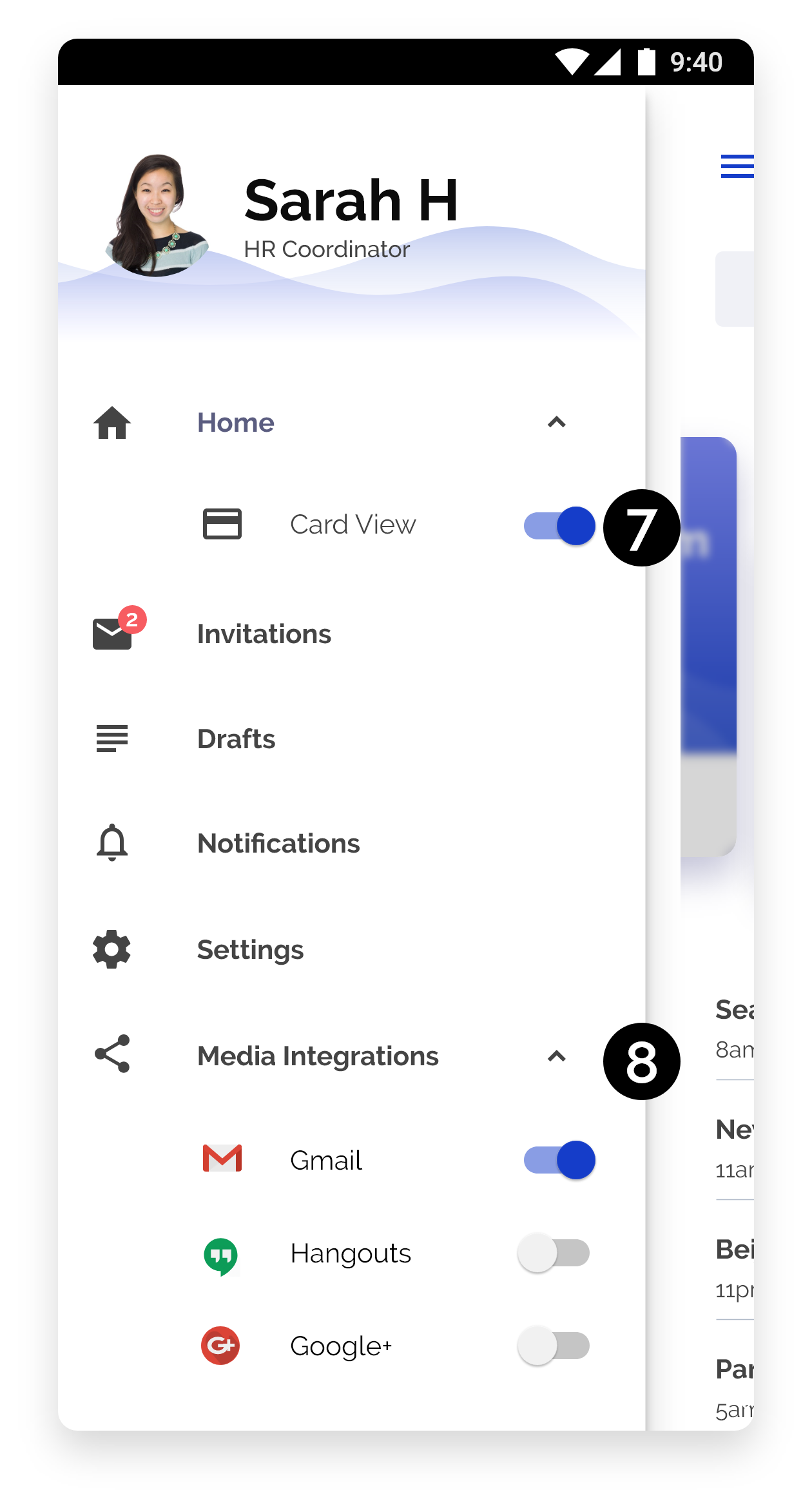 1. Uses tabs on the top to view
past
,
ongoing
and
upcoming
meetings
2.
Swipes cards to the left or the right to review different meetings' information
3. In the global time section, the time indicator shows
current local time
and
corresponding times in other time zones
4. The List View provides a brief version of meeting schedules. More details are available if the user clicks on the arrows

5. Adds a new meeting by clicking on the plus button

6. Uses "Add New Locations" button to add other offices' locations
7. Uses the slider to switch between the Card View and the List View

8. Connects with other tools and platforms in the Media Integrations section
2. Review Meeting Details

Review meeting details by a single click. Look at attendees' responses, change previous responses or reschedule incoming meetings.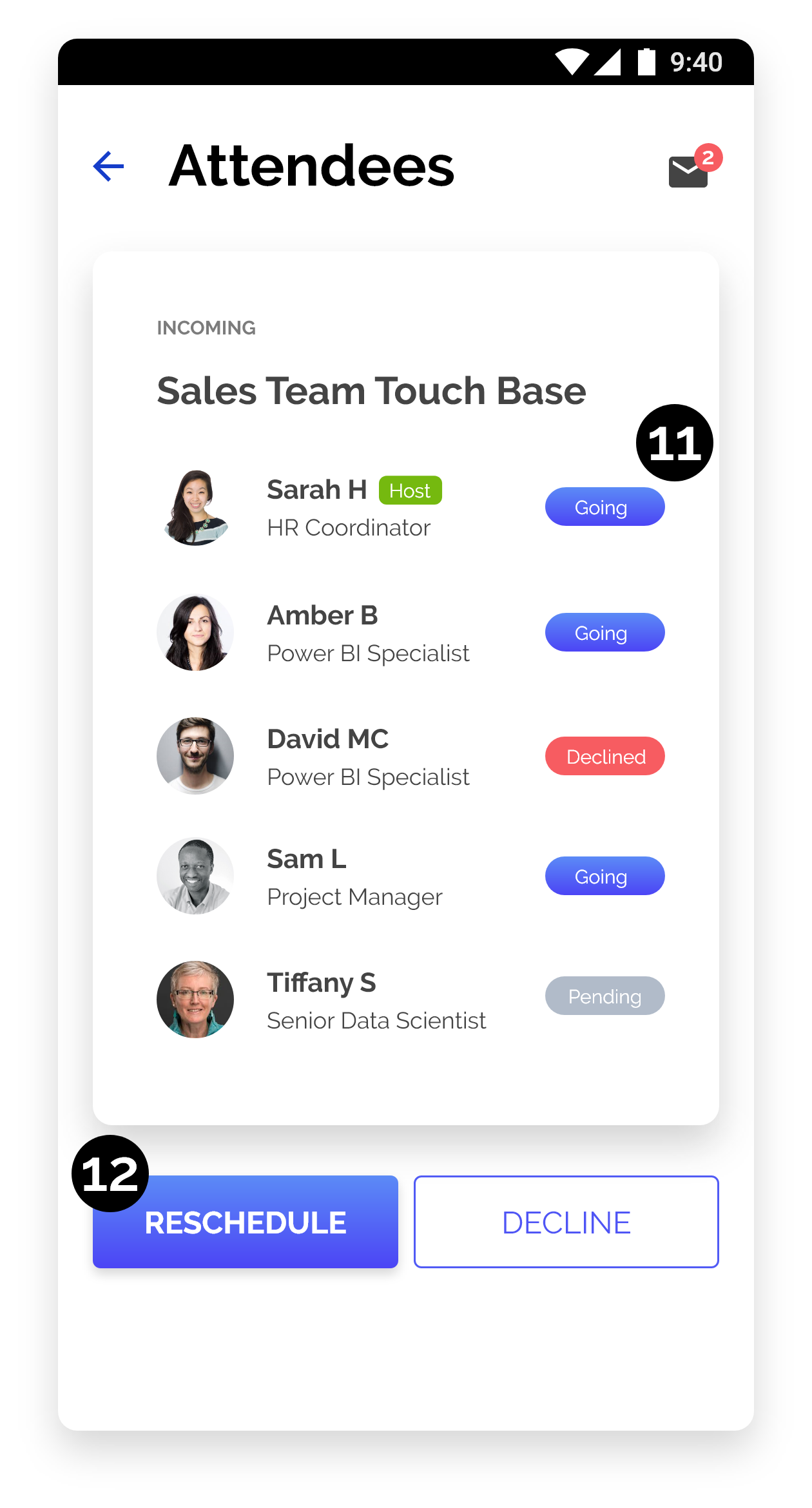 9. In the Meeting Details page, the user reviews detailed information of a specific meeting. Swipes to the left or to the right to review previous and next ones

10. Clicks on the arrow to check out attendees' responses

11. Reviews responded statuses (going, declined and pending) of each attendee

12. Proposes a new meeting time or decline an accepted meeting.

* Please view the detailed logic diagram here
3. Book a Meeting

Book a new meeting and send invitations to attendees through three simple steps. Users can add multiple locations and time zones and use customized notes to provide further details.
13. Chooses from pre-setted tags to label the types of meetings or adds new ones. Includes meeting details in the invitation by filling out a short form

14. Checks out the availability of each potential attendees

15. The user has the option of including notes along with the meeting invitation. Includes instructions, video call links and other information in the notes section if it is needed

16. Reviews the meeting details before sending out an invitation
17. The user reaches a confirmation page and is prompted to schedule another meeting or go back to home page
4. Receive New Invitations

Users receive notifications when being invited to meetings. Respond to meeting invitations right away or use Inbox feature to keep track of them.
19. The user receives notifications of new meeting invitations. Responds immediately by clicking on Yes or No, or discards this notification and check it later in the Inbox by clicking on blank space
20. A reminder that notifies users of new invitations

21. Checks out the detailed information of the invitation
22. Reviews the new invitations under the Unread tag

23. Uses the Yes or No button to respond, or clicks on the arrow to check details

Cross-device Design & Grid System

In order to provide consistent experiences for users, I utilized the responsive layouts and the grid system to make the design adaptable to different screens, devices, and orientations.

0-599 dp
4 Colums

600-839 dp
8 Colums

840+ dp
12 Colums
Sum-up

I inherited the secondary research (background information, competitive analysis) from the research team, and then I conducted my research and created the user archetypes that were used to present to the clients and brainstorm for possible features.
The visual language followed the color palette that I was given by the client.

The design style was intently followed Google Material Design Guideline as required by the client.
At the end of this project, I delivered a set of high-fi prototypes, design guidelines, research artifacts, and a presentation slide deck.

However, due to the nature of this freelance work and the tight timeline. I wasn't able to follow up with the usability testing after I delivered my design. If I had more time, I would like to do another round of iteration based on users' feedback.