Fluid Earth Viewer
FEWer is an interactive intuitive, and visually appealing web application, will allow users to visualize current and past conditions of our planet's atmosphere and oceans. FEVer will be a vehicle of modern Earth science communication, bring information most often utilized by the scientific community and making it accessible and engaging to STEM and broader communities. In particular, it will provide hands-on visualization of the important climate role of the polar regions, their connections to lower latitudes, and the changes they are undergoing.
Learn more about this project:
https://fever.byrd.osu.edu/about.html
Original Version:
https://earth.nullschool.net/
Beta Version:
https://fever.bpcrc.osu.edu
Objectives

Nullshcool is an online climate viewer that was originally designed for professional users such as geographers, meteorologists, environmental scientist, and earth scientists. As a new objective for this project, we're aiming at lowering the technical bar of using this application and making it user-friendly for the general public whoever is curious to learn more about our planet — the earth. Moreover, we hope to empower this tool to assist teachers and informal educators that they can use it in their classrooms with youth programs for various educational purposes.



Desired Goals

Remove obstacles to using this tool by simplifying the information architecture and omitting the exceedingly advanced features
Prioritize the highlighted functions by improving the visual hierarchy

Provide a smooth user experience by implementing fun and interactive elements
Potential Problems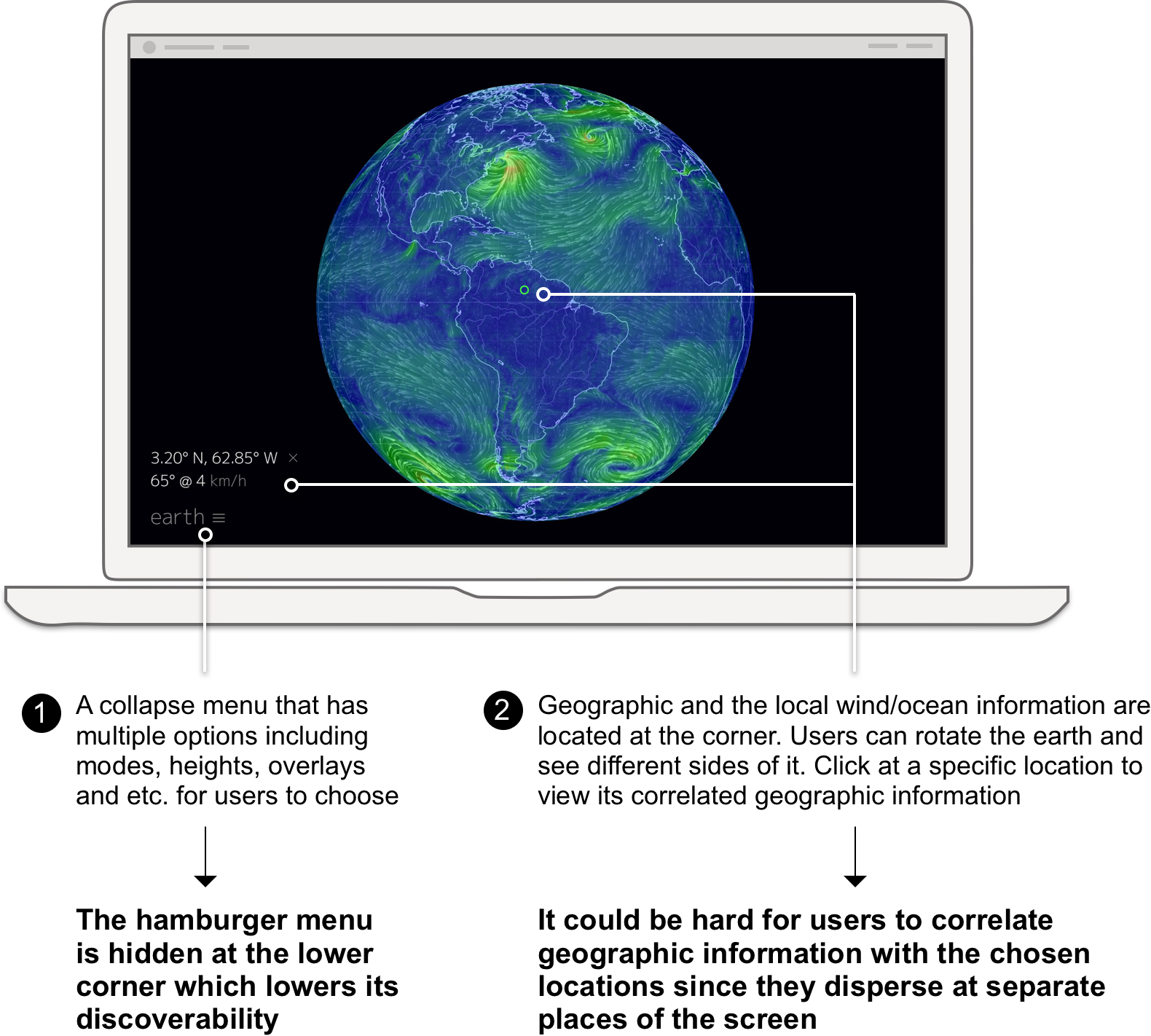 Key Features
After analyzing the problems that exist in the current version, I started to layout the features we may want to carry on from the original website and other features that may be possible to bring in which can better serve for users' goals. Through a consultation process with scientists and the educational team, we further defined the visual representations and the control methods of each feature and then categorized them into Primary Features and Secondary Features according to users' feedback.
Mood Board

Branding Illustrations

---
Details Coming Soon
---