Drop-in

A location-based messaging app for building exercise habits.

Drop-in is a school project sponsored by Premera, a local health insurance company whose primary business areas are Washington and Alaska. Our team was asked to provide a digital solution for Premera's current or prospective customers in aftercare field. The project took about 4 months from start to end.


Team project.

My contribution includes secondary research, ideation, concept drawing, UI design, usability test, diagram illustration, and documentation.


Keywords:
- Research
- Prototyping
- User interface design

Final Concept Demo

1. Mike wants to encourage his friends Sophia to get some exercise from her busy schedule. He starts by recording a video message and drops his message on a specific location.
2. Sophia receives a notification from Drop-in that her friend Mike just sent her a message. However, before she can watch the message, she needs to take a walk.
3. The message was dropped 14 minutes from her. She decides to take a walk right away. Following the map, she walks towards the message.
4. Getting closer and closer, finally, Sophia found that message! She taps on the "view" button to watch the message now.
5. The message plays. In the video, Mike reminds her to take a walk every day to build exercise habit, getting outside to enjoy natural views.
Research Insights
We started with secondary research about caregiving in general, issues around aftercare, how behavior change can be impacted by technology, and the most common medical conditions in the area served by Premera. We also supplemented our research with additional primary research.







Type 2 Diabetes is one of the most prevalent and expensive diseases in Washington and Alaska.
"Diabetes is the 7th leading cause of death in the states of Washington and Alaska."
Centers for Disease Control and Prevention. (2016).

"People with diabetes have health care costs 2.3 times greater than those without diabetes."American Diabetes Association. (2018).


Everyone can benefit from daily exercise, but for type 2 diabetes patients, it is integral to successful treatment.
"We recommend aiming for 30 minutes of moderate-to-vigorous intensity aerobic exercise at least 5 days a week or a total of 150 minutes per week."

American Diabetes Association. (2018)
People need motivation when starting and maintaining a new exercise routine.

"I know what it takes to get to 10,000 steps a day, but walking for the sake of walking is so hard. Maybe I'm too goal-oriented."

Primary research interview participant 1
---
Desired Outcomes
Improve physical and mental health outcomes for patients and caregivers

Connect everyone involved in a patient's caregiving

Empower caregivers to help patients develop and maintain healthy habits
---
Ideation and Down-selection

Process
We used a mind map to explore the connections between each subtopic and uncover areas in the problem space we hadn't previously considered.
We came up with around 100 ideas and sorted them into 7 different themes. The f
ollowing critique session with Premera
helped sharpen our focus in order to pull out the strongest 20 concepts from our group of 100.
Downselection Criteria
Combining the feedback from Premera and our own perspective from our research, we chose 6 criteria for evaluating our concepts:
Innovative

Contextual

Beneficial to Caregivers

Beneficial to Patients

Increased Knowledge

Coordinative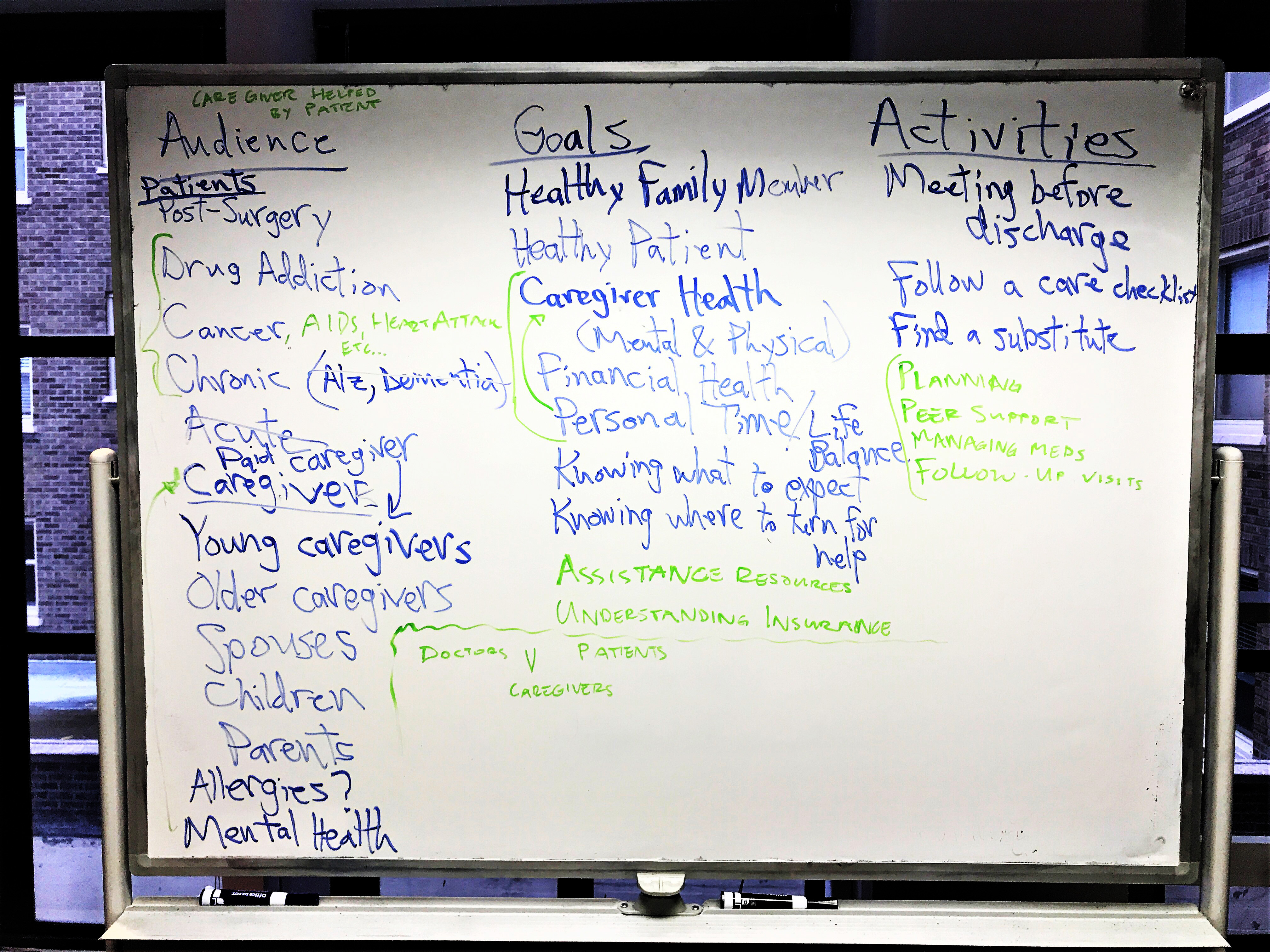 After multiple rounds of downselection sessions, we felt the
geocached messaging concept
can serve our users and Premera's business goals best.
The geocached messaging concept will allow caregivers located
locally or remotely
to send video messages that can only be accessed in a specific location. The patient will have to be
physically active in order to access the motivational messages from their loved ones.
They will then have the ability to send a geocached message back to the caregivers.
---
Design Principles
Collaborative
Personal
Inclusive
---
Lo-Fi Prototype Test
To further develop the concept, we created prototypes of key user flows using paper prototypes and tested them with users.
Main Finding #1
Message senders expected more guidance of where to drop the message; when retrieving the message, people wished to have more control of their walking routes.
Solution
Added My Favorite Places feature, which users can define their start locations.

Main Finding #2
Users brought up accessibility concerns. Patients may have different levels of mobility issues.

Solution
Provided accessibility filters on the map including Steep Grades, Obstruction, and

Stairs

to better serve wheelchair users.
Main Finding #3
Users have different opinions about the order of dropping the message and choosing the recipient.

Solution
Conducted another round of

competitive analysis

on popular video messaging apps such as Snapchat and Instagram. Followed the most conventional order, but leave

freedom

for users to jump back and forth.
---
Hi-Fi Mockups
Information Flow Diagram

*View the detailed flows map here




Key Path #1
Send a Message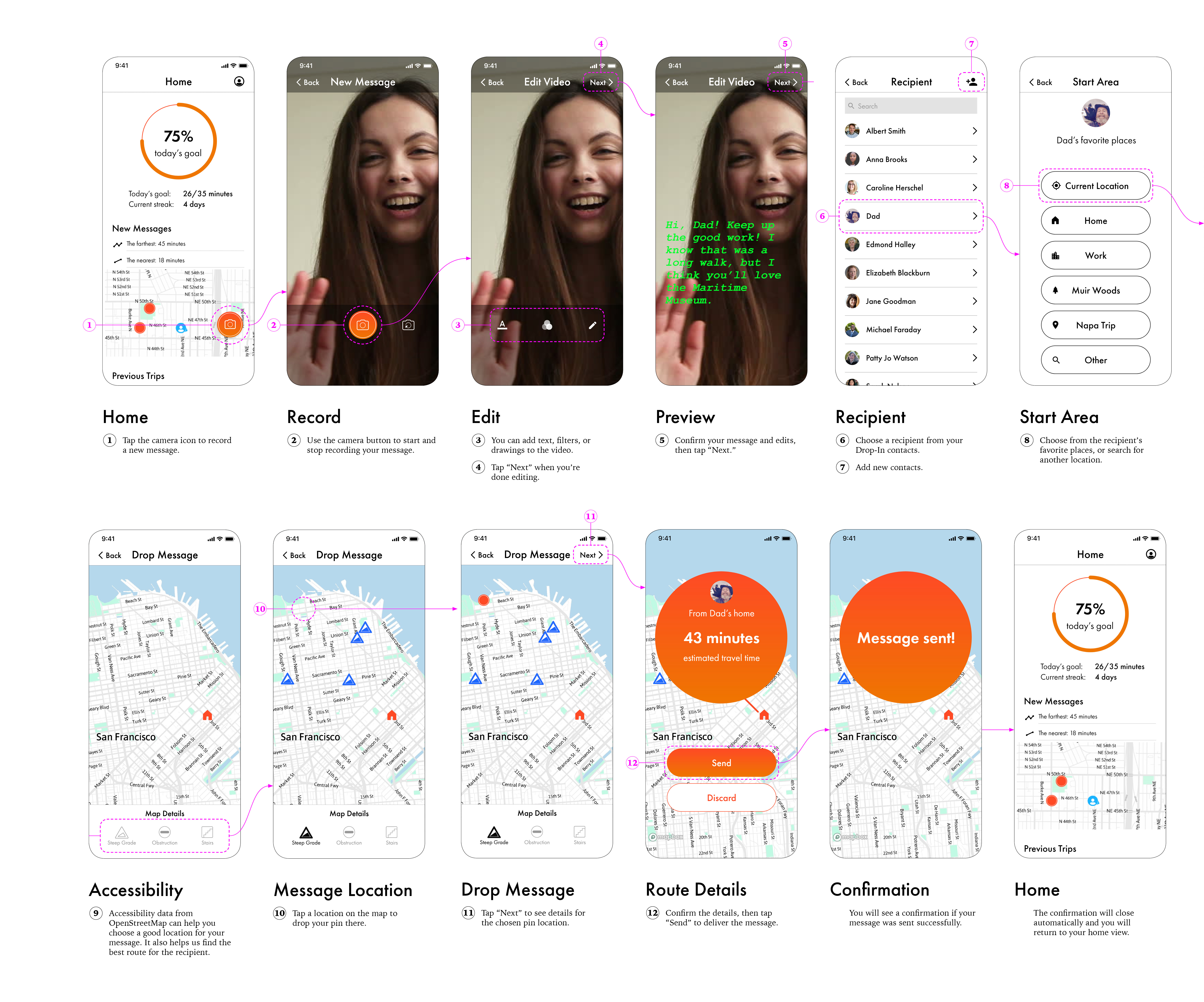 Key Path #2
Retrieve a Message

Key Path #3
Sign Up
Key Path #4
Onboarding

Other Screens
Maintain Healthy Habits

Inbox
Profile
Visual System
Color Palette
Font and Size
Components

*View the detailed UI specification document here