---

Design Challenge
How might we improve the communication efficiency between childcare providers and parents?
---
Introduction

In most U.S. families, both parents work outside of the home. Daycare is usually their first option.
Elepho is a new system that improves the communication efficiency between childcare providers and parents. Keeps parents well-informed, while simultaneously make daycare teachers' work more manageable.
Process
---
Research Findings
Insight 1

︎

Most people have trouble to accommodate their busy schedules and feel the lack of time with children and families.

*View the detailed survey report
here
Insight 2

︎

Parents' expectations and complaints about daycare services are different and vary along with the children's growth.
*View more about the MakeTool sessions
here
Insight 3

︎

For daycare teachers, paper reports and emails as the main communication methods with parents are cumbersome and easily misplaced.
---
User Types

From the formative research findings. I summarized parents' and teachers' representative daily tasks, device preferences, and needs and goals.
1. Parents
2. Teachers
Design Principles
Aligning with users' goals and expectations, I developed 4 design principles as my guidelines for the following ideation and design process.

---
Design Opportunities & Ideation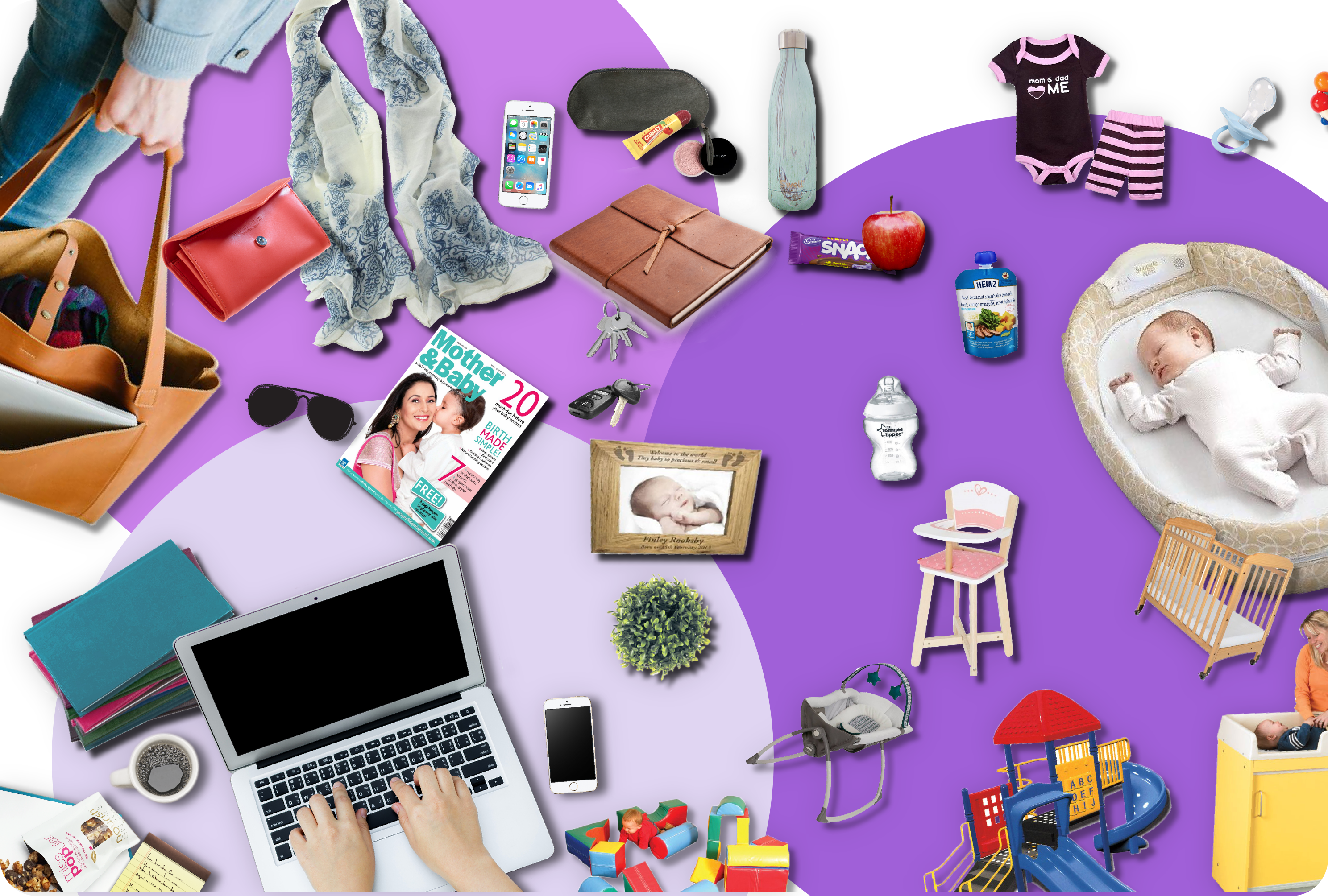 I looked for design opportunities around parents' bags, kids' daily supplies, and daycare equipment to build the connection between parents and children through technologies which can provide proper feedback when they are not taking care of their children in person.
I brainstormed different concepts based on these three steps:
Sending information from childcare providers such as the daycare center, nanny, baby sitter, etc.


Processing information via digital platforms such as baby monitors and mobile/desktop apps.
Receiving and reacting to information on the parents' side.
---
Down Selection
1. Users' Feedback
I brought these ideas back to 3 parents and asked them about the desirability of each idea. They wrote about their thoughts on sticky notes and voted for their favorite ones. For teachers, I called back to 2 daycare teachers (one from toddler class, and one from mixed age class) and walked them through these ideas. After gathering feedback from parents and teachers, I reached 3 major insights.
2. Competitive Analysis
To better understand the design opportunities, I conducted a competitive analysis of 6 popular software usually used in daycare centers and 6 child monitor/communication tools used by parents. I examined them in terms of their features and the values they provided for daycare facilities and/or parents.


Daycare Software
Child Monitor & Communication Tools
*Click to zoom the charts above
3. Synthesis


After synthesizing all 5 insights from users' feedback and the competitive analysis, and taking the 4 design principles into consideration, I reached the conclusion that a two-way information interactive service could fit best in this scenario.
System Diagram
I proposed a responsive and interactive service system to address the communication problem between childcare providers and parents.
---
Media Selection

1. Information Design Opportunities
Parents have strong emotional connections with their kids. The special bond between parents and children makes them miss their children very hard. Current software and products on the market can provide information and feedback to parents but few could think about when and how the information would be sent and received.

In this case, I used the Media Richness Theory as the reference to categorize and analyze different types of communication media and their capabilities of carrying information.

2. Media Channels Analysis
When the parents cannot take care of their children in person, they expect to receive proper feedback from other care providers to make sure their kids are safe and happy. Different communication channels can carry different amount and types of information.
3. Information Flow *Click to zoom the charts above

---
Concept Development

1. Mobile App Design

Low-fi Prototyping and Testing
I made paper prototypes and invited 5 parents (4 female and 1 male) to attend the testing sessions. I was able to perceive how the participants would interact with the app and observed if they encountered any usability problems.


Main Finding #1
2 participants pointed out the multiple entries on the homepage did not provide useful information directly.
Solution
Revised the homepage content to be more informatic. Simplified the navigation structure and provided accesses to the most important features on the bottom navigation bar.
Main Finding #2
Parents expected an easier way to set up the Customized Feeds section.

Solution
Provided two pre-setted modes that users could modify the amount of feeds they want to receive.
High-fi Prototyping and Testing
During the low-fi prototype testing, I got a lot of useful feedback from the participants. However, due to the limitations of the low-fi prototype in both functional and visual aspects, some functions were unclear in terms of what were supposed to work and what were not. It required a lot of imaginations from users. For the next step, combining the feedback got from previous testing sessions, I developed a set of high-fi prototype and conducted another round of testing.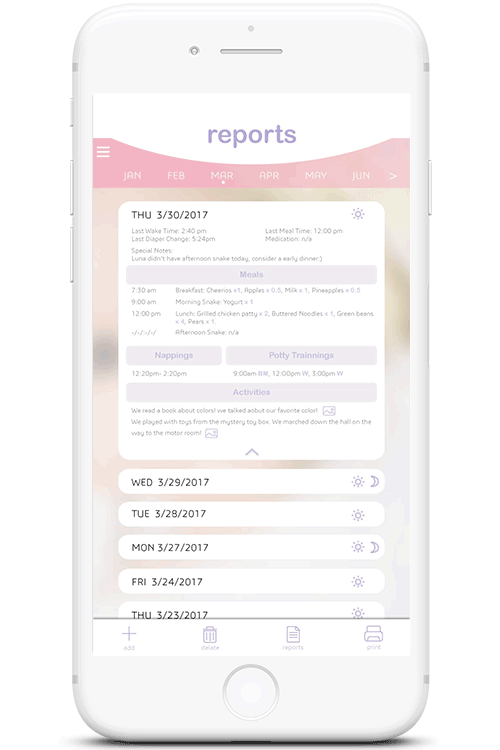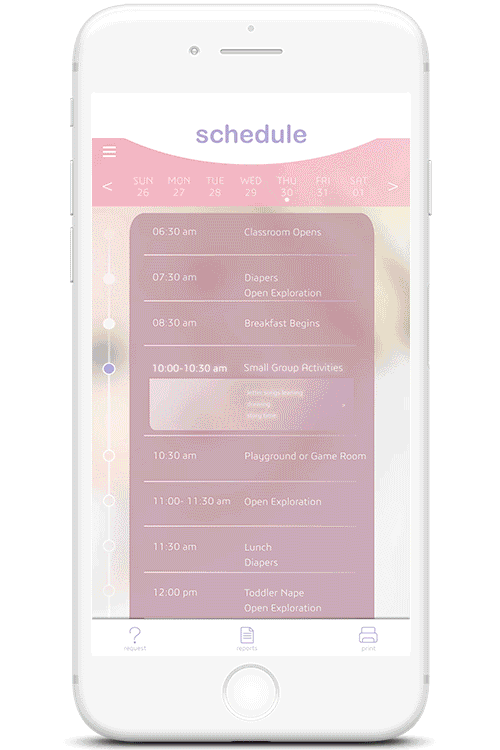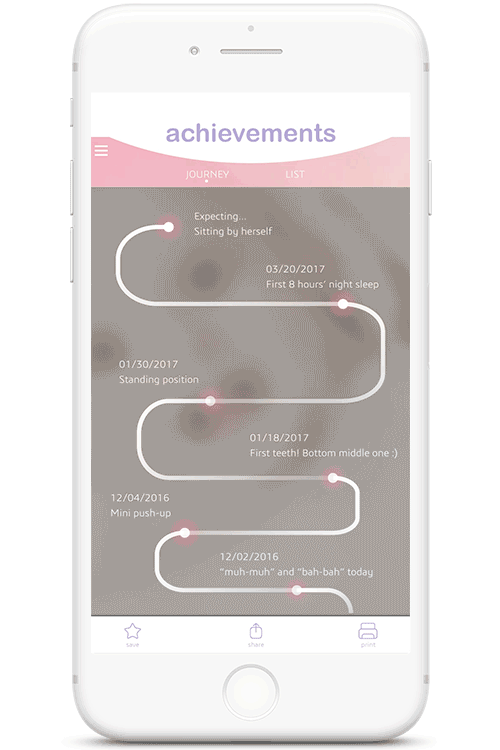 Main Finding #1
Having the daily reports listed by dates was not the most convenient way for parents to locate the information they want.
Solution
Added a search bar that enables users could use keywords to find related information
Main Finding #2
All the participants liked this Gallery feature. However, people wished this section could be more personal and creative.

Solution
Considered to develop more customized editing and reviewing features for photos and videos.
Nothing stood out from this flow
Secondary Finding
The male participant hoped the theme colors could be more gender neutral.
Solution
Explored broader color schemes and used gender neutral colors
.
Sitemap
Based on users' feedback, I revised the sitemap to be easier to navigate. I re-ordered contents and arranged them in a logical, intuitive way to increase their discoverabilities.
Final UI Mockups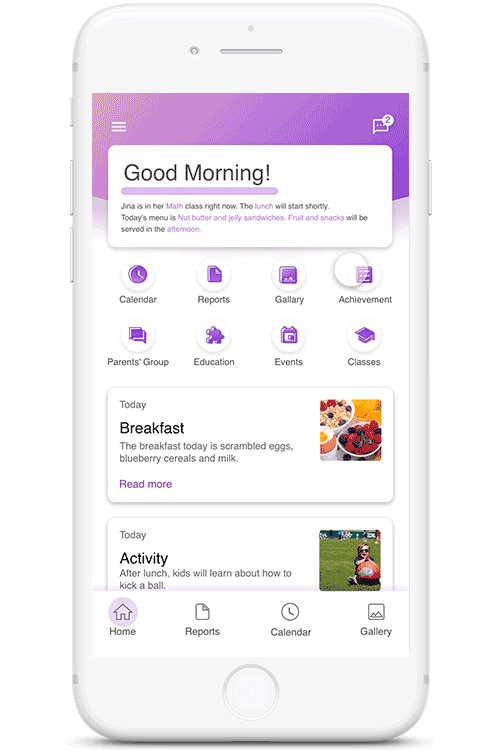 Achievements

Use Journey or List view to see important dates and achievements

Understand what should be expected next
Rationales:
New born babies may bring a lot of anxieties. Parents hope to be proactive about what should be expected next (interview).

Parents' expectations vary along with the children's growth (survey, interview).

Gallery

View all the photos and videos at one place

Select your favorite ones to export customized posters
Rationales:
Parents participants expressed a desire for creating a photo memory book to savour the baby' journey (round 2 testing).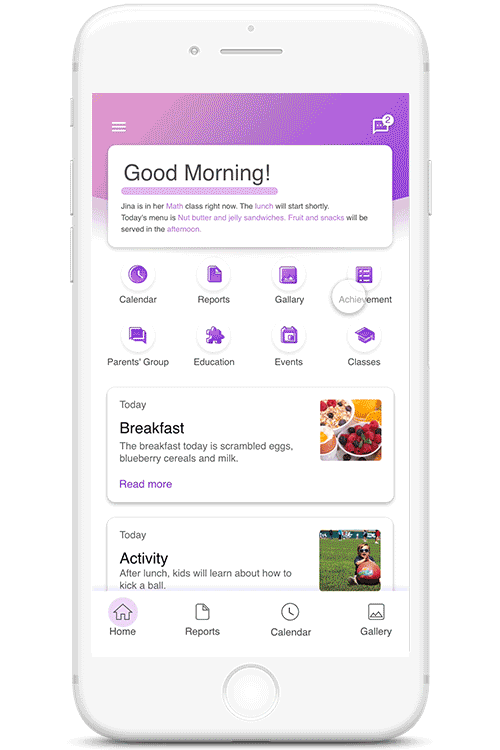 Reports

Have the daily reports at your fingertip

Use keywords and pictures to create your own reports at home
Rationales:
Paper reports are hard to keep on file and are easily misplaced (interview, MakeTool session).
Allowing parents to input the night reports would help to streamline the childcare task (interview).
Setting

Use 1-click to switch modes between "Busy" and "Free"

Adjust the amount of feedback you receive
Rationales:
For working parents, being able to adjust the amount of notifications helps to reduice the unnecessary distractions from work (interview, round 1 testing).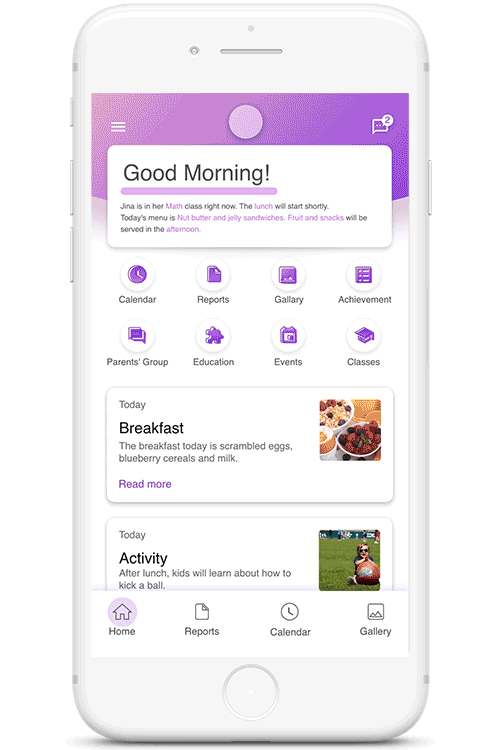 Other Features
Parents' Group
Start a conversation with other parents in the discussion group

Calendar
View incoming events and payment due dates
Events
Check out the daycare center's events, and save the interesting ones into your Favorite

Use "Going" or "Maybe" to indicate if you're interested in or not
2. Hand Device
This device was specifically designed for daycare teachers. It is small, lightweight and easily be carried with. The built-in front and back cameras that incorporate with Facial Recognition and Object Recognition technologies can help to smartly capture information about each activity of each child by pairing with different Hotspots located in daycare centers.

Primary functions include:
Photo capturing

Tasks confirming
No extra writing is needed from the teachers' side and the accuracy of tasks' record is guaranteed.
Final design
Process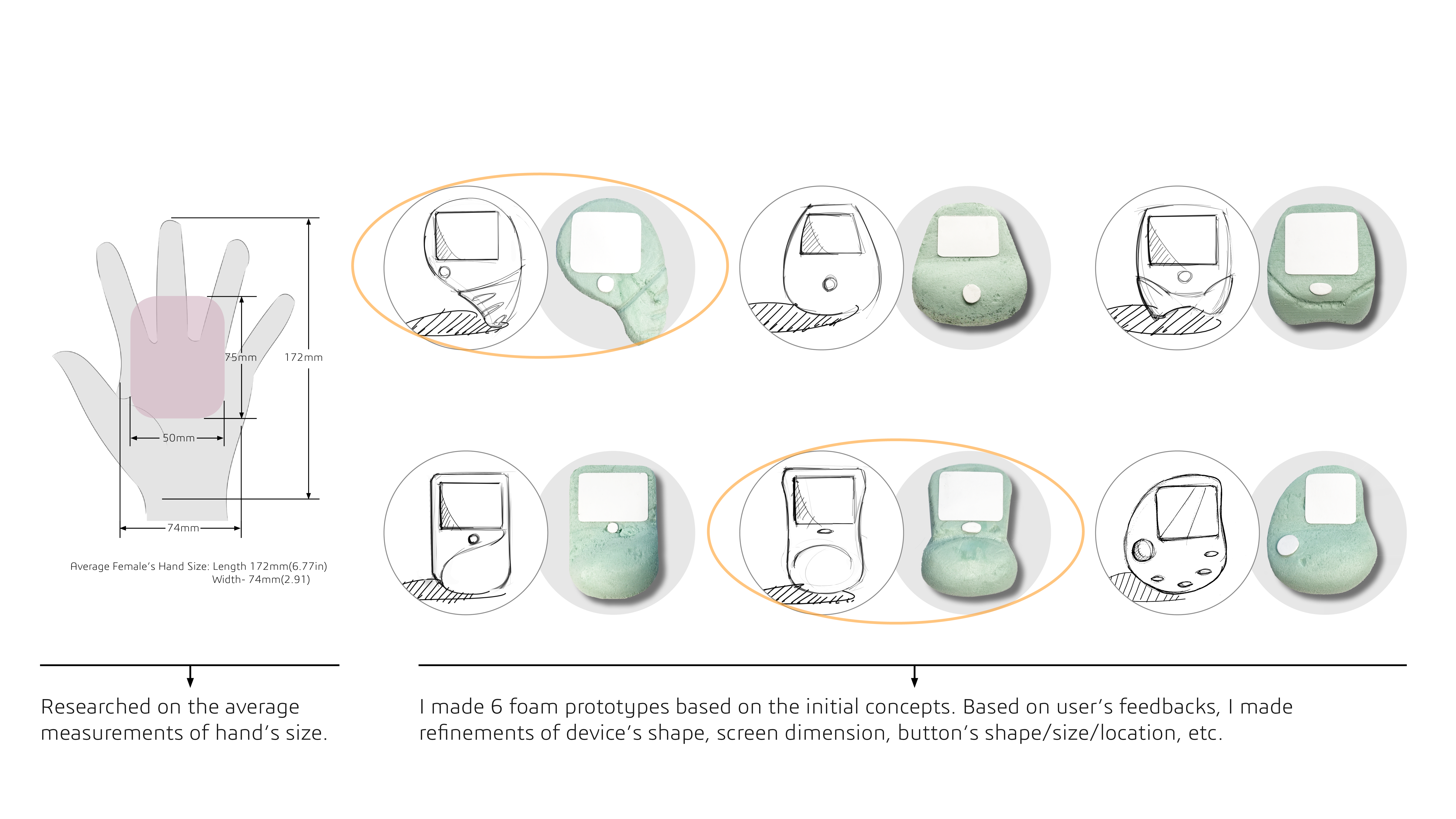 3. Childcare Robot

The elebot is an Artificial Intelligence Robot who is able to communicate efficiently with children and teachers by analyzing the words and tones in conversations and people's facial expression and then give natural reactions. He is responsible for collecting and selecting useful data and send them to the central hub. That information will be used for generating children's daily reports that the parents can save as references.
Daily tasks include:
Captures photos and videos during activities
Displays customized educational materials and teaches lower-level classes

Connects video calls upon to parents' request. Immediately syncs data with the central hub

Final design
Process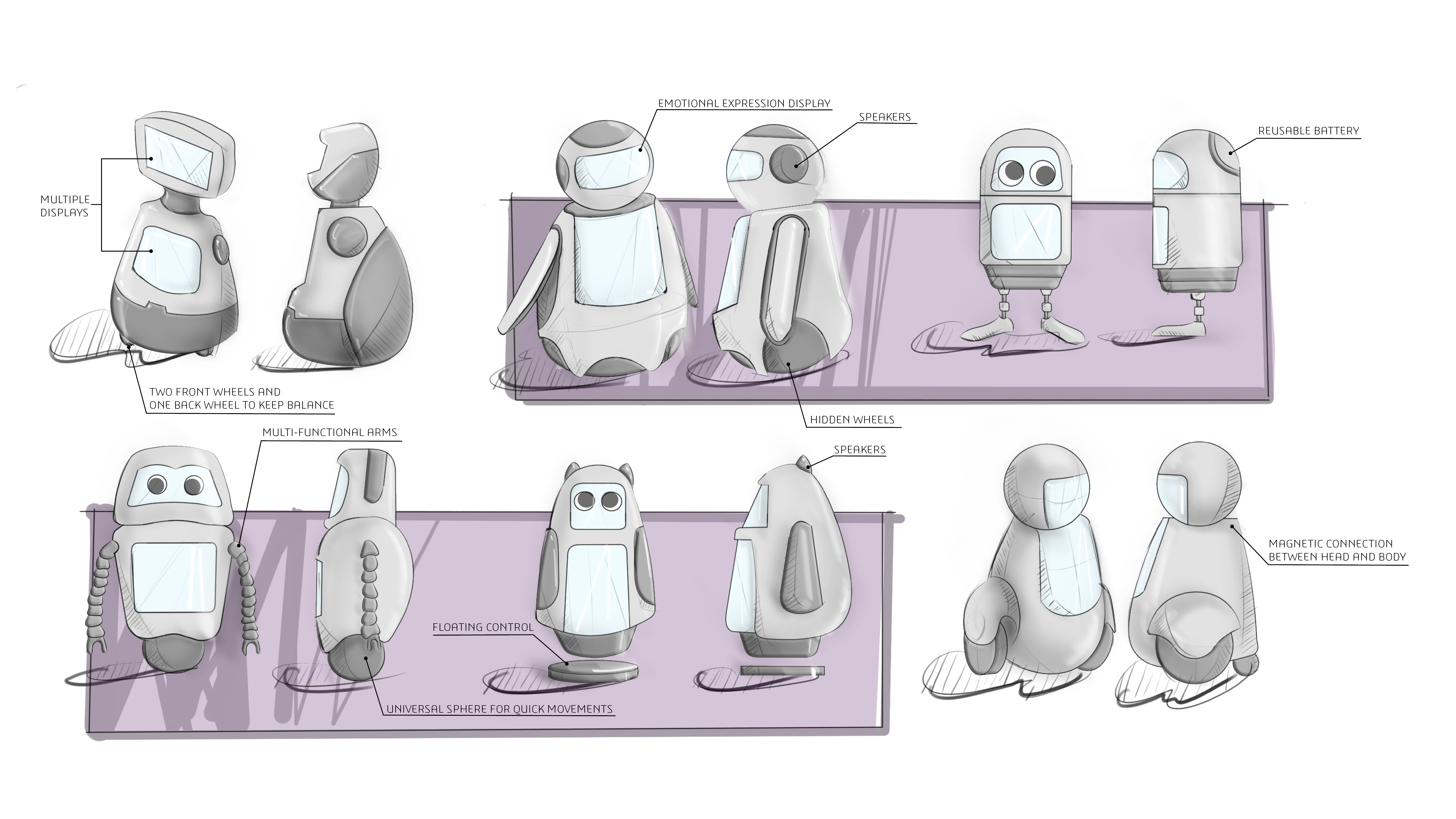 ---
Visual System
I hoped to create
safe, energetic and lively
feelings. Most of my inspiration pictures have pastel tones of mild color themes.
Color Palette


Logo Design
---
System Performance

Childcare is a complicated task. It brings joys and excitements to parents, but also requires a lot of efforts on a daily basis. Existing tools are mostly one-way communication that lacks interaction. To fulfill both parents' and teachers' needs, a interactive system would provide more comprehensive information feeds which could not be achieved by a single product.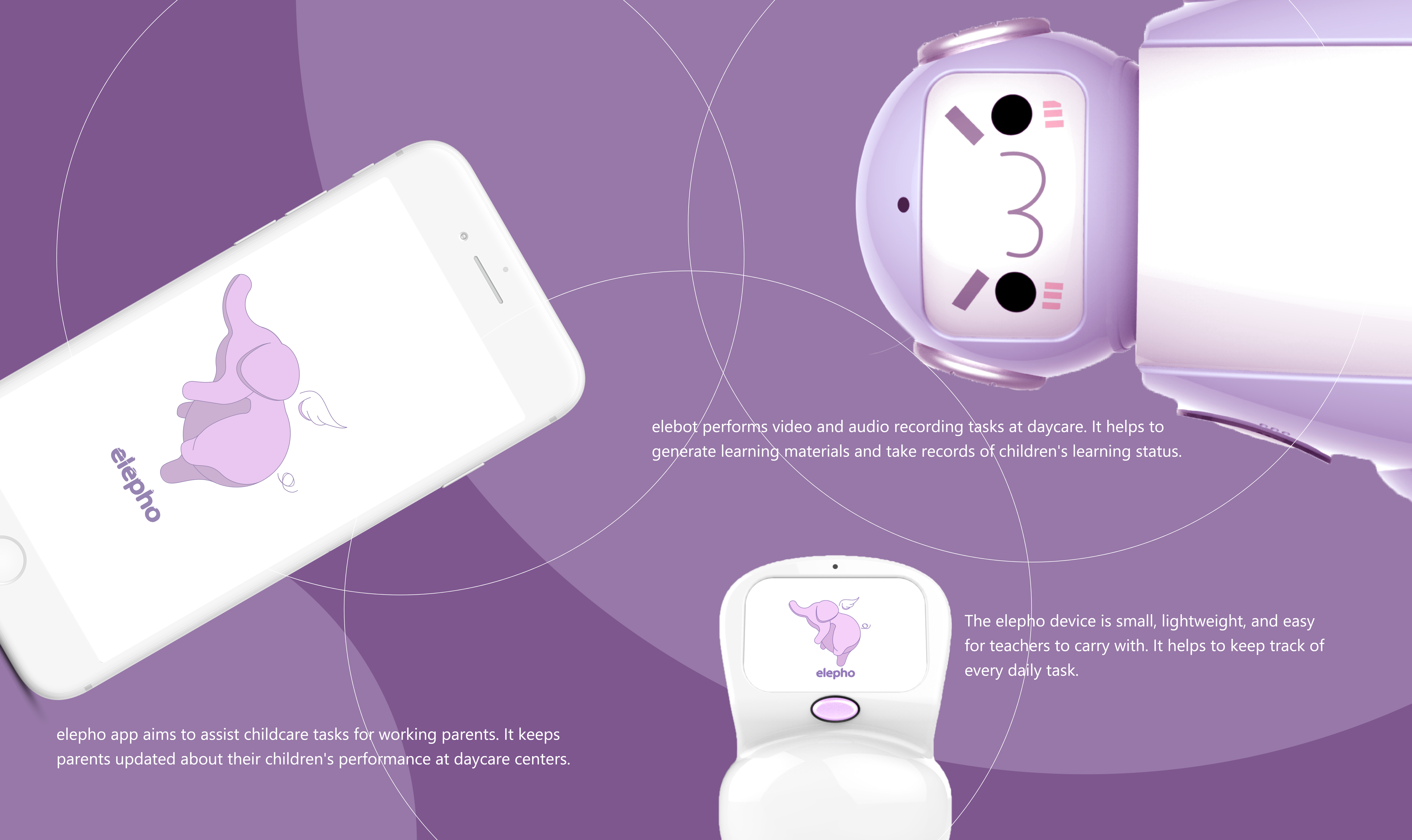 ---
Reflection
Should consider design the device's user interfaces and tested them with teacher users if I had more time.
Should prototype the hand device with proper materials and test it with teacher users in their working environment.
Should test the prototypes in the parent users' home to mimic the usage scenarios (eg. parents are writing new reports at home while they're performing other childcare tasks at the same time).
Should think about other types of users and usage scenarios. For example, other childcare providers such as baby sitters or nannies might also utilize the system to provide feedback to parents.
If I had time to design more components in the system (the device screens, the robot screen, etc), I would like to test them with teachers and parents together. Thus, I can understand if the system provides suitable assistants for both types of users.